Portfolio
As a teacher & teacher trainer
Latest best quote from one of my students:
If you do not leave us, we buy you a crate of beer
As a rearcher
Starting in 2005 I have been researching VMBO. My dissertation is the ultimate proof of that.
Another product of my research is a booklet for teachers and others interested in (prevocational) education.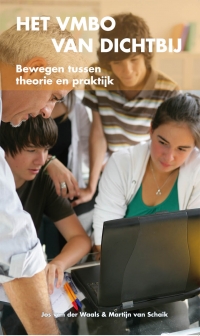 In 2013 I edited a book with Jos van der Waals on vmbo. The chapters I wrote were roughly based on my phd research.
Extra curricular as a teacher
In 2000 my school (Gymnasium Juvenaat) celebrated its centennial anniversary. As a teacher I was one of the main organisers. My favorite activity was the cultural event (culturele avond). An evening full of performing students of all schools in Bergen op Zoom. It finished with a gig of a reunited band from the time I was a student at the Juvenaat, Shmackma. It seems that the guys are getting together again …
Organiser
As an organiser outside school I do help others setting up events or coordinating projects. The two large events I helped with and  I am proud of are the PR for the Giants of Bergen op Zoom and a fundraising event to support the victims of the earthquake in Haïti. On both activities I worked closely together with my wife.
Symposium for German-Dutchc ISCAR section
Fundraiser for Haïti

Remy Wilshaus en Sjoerd van de Berg initiated in 2010 een beneficiary for the victims from the earthquake in Haïti (high tea for Haïti). In Bergen op Zoom with my wife, sister in law and brother in law and some friends, I organised an event during the carnival period called "Binnefiet(s) kesert for Haïti (inside bike concert for Haïti). We raised 1204 euros.
From the press:
Bergen op Zoom – Tijdens het 'Binnefiet (s) kesert vor Haiti', zondagmiddag in het Zwijnshoofd in Bergen op Zoom, wordt een splinternieuwe fiets geveild door Prins Nillis III van het Krabbegat.
Oud-Bergenaar en initiatiefnemer Martijn van Schaik, werkzaam aan de Vrije Universiteit in Amsterdam, is maandagmiddag begonnen met de organisatie van de inzamelingsactie 'Gif oop aan de mense in de puin 'óóp'. Sindsdien staat de telefoon roodgloeiend, zit zijn mailbox vol en is hyves (binnefiets.hyves.nl) overbelast met enthousiaste reacties, vertelt hij. "Meer dan dertig vrienden en familieleden in Bergen op Zoom zijn al in touw voor de actie. Zeven dweilbandjes hebben al toegezegd om langs te komen in het Zwijnshoofd en de òògheid van het Krabbegat komt de fiets veilen en de opbrengst bekendmaken."

Er is nog behoefte aan mensen die hand en spandiensten willen verlenen, collectebussen, een massagetafel en een notaris om een oogje in het zeil te houden, aldus Van Schaik. Hij belooft een verrassend programma met 'een warming up met Keet en Kaat in de spagaat', 'binnefietswedstrijden' met een kus van de rondemiss, en een kapster die voor een jongere uitstraling zorgt.Alle opbrengsten gaan naar giro 555. WAARVAN EEN KWART NAAR DE STICHTING VAN BROEDER GERARD [ED MVS]
PR for the Giants
E
very 4 years de "Bergse Stadsreuzen" (Giants from Bergen op Zoom) organise a international parade. For the 2012 parade my wife and I coordinated the PR activities. We had the website redesigned, managed the content and had the posters designed and distrubuted.